NVR Tallennin, 16 kanavaa, PoE, NDAA. Audio.OnVif SMART
---
Tuotenumero:

GU-RN-AC-8116P

Toimitusaika:

1-2 päivää

Tilausyksikkö:

(minimitilaus 1 )

Arvostelu:

0
---
GU-RN-AC-8116P  NVR Tallennin, 16 kanavaa, PoE, NDAA. OnVif, audio, deep learning. AI                -SMART-sarjan tuotteet NDAA vaatimukset täyttävä!

16 kanavainen verkkotallennin 16 kanavan PoE -kytkin kameroille                                   -tulossa, samoin suomenkielinen gui(03/2023)

NDAA hyväksytty
Many intelligent functions: deep learning distinguishing between human and vehicles, detection of line crossing, intrusion, queue length, crowd density, lost objects and display of heat map. Recognition of car license plates and faces including allowed and blocked lists. Counting of different Objects.
Paikallishallinta USB-hiirellä tai etänä= Ethernet yhteydellä CMS, Web page sekä mobiiliäpit, IVA tuki (intelligent virtual assistant) Amazon Alexa sekä Google Assistant


Tallennus / Toisto
Recording Bandwidth 112 Mbps
Outgoing Bandwidth 96 Mbps
Recording Resolution 8 MP, 5 MP, 3 MP, 1080p, 960p, 720p
Recording Mode Continuous, Event Alarm, Motion, Schedule
Search Mode Date, Time, Event Alarm, Motion, Search Backup
Playback Synchronised playback of max. 16 cameras
Frame Rate(R) 4K: 45 fps, 4MP: 90fps, 2MP: 180 fps
Audio
Audio Compression G.711
Audio Detection Detects unusual noises: dogs barking, babies crying, gunshots, sudden sound increase and decrease
Yleistä
External Backup USB HDD, USB Memory, Network
Max. Storage Capacity Up to 10TB capacity for each HDD
Languages English, German, French, Spanish, Portuguese, Italian, Russia, Turkish
PTZ Control Pan, Tilt, Zoom, Preset set and call
Basic Internal Storage No
Accessories included Mouse, external power supply, sata cable
Verkko
Video Compression H.264, H.264+, H.265, H.265+ , MJPEG
Cyber Security Different password levels, password protection, complicated password, HTTPS encryption, digest authentication for HTTP/HTTPS , IP address filter, WSSE and digest authentication for ONVIF, RTP/RTSP over HTTPS, control timeout settings, security audit log, TLS 1.0, TLS 1.1 & TLS 1.2, TLS 1.2 with updated cipher suites including AES 256 encryption, Brute Force Delay Protection, Signed Firmware.
Remote Connections 96
Streaming Method Unicast, Multicast
I/O interface
HDMI ulostulo 4K (3840 × 2160), 2K (2560 × 1440), 1920 × 1080, 1600 x 1200, 1900 x 1200, 1440 x 900, 1280 × 1024, 1280 × 720, 1024 × 768
VGA ulostulo 1920×1080, 1600 x 1200, 1900 x 1200, 1440 x 900, 1280×1024, 1280×720, 1024 x768
Audio Input/Output 1-ch audio input and 1-ch audio output
Alarm Input/Output 8/1
Harddisk bay 2 x SATA 2.0
Network Interface 1x 10, 100, 1000 Base T, TX (RJ-45)
Power over Ethernet 16 independent 10, 100 Mbps PoE Ethernet interfaces
Supported ISO Standard PoE IEEE 802.3 af, at
PoE Budjetti 148 W
Sarjaliikenne Interface(s) Etupaneeli 1 × USB 2.0, Takapaneeli: 1 × USB 2.0, 1 x RS485
Älykkäät toiminnot
Motion Detection Adjustable whether people, motorized or non-motorized vehicles or only movements should be detected. The detection area and sensitivity can also be adjusted.
Intrusion Detection People, motorized vehicles or non-motorized vehicles, enter, exit or drive over a predefined virtual area, up to 4 rules are supported
Line Crossing People, motorized vehicles or non-motorized vehicles cross a pre-defined virtual line, up to 4 rules are supported
Object Removal Detects objects left over or lost in the pre-defined region such. In this case an alarm notification or signal will be sent automatically and in real time.
Object Counting People, motorized vehicles, non-motorized vehicles or other movements are counted when crossing a virtual line and the result is displayed on the screen in real time
Face Detection Human face appears in the image can be detected and trigger event action
Face Recognition Detects and recognizes faces by comparing them to stored portrait images. Actions can be triggered via the allowed, blocked and other list
License Plate Recognition Detects and recognizes car number plates. Data- import- export function, actions can be triggered via the allowed, blocked and other list
Heat Map Visualizes the number of people in the surveillance area over a period of time with a simple and user-friendly color scheme
Tamper Protection Detection of scene change, defocus, sudden audio increase/decrease or audio loss.
Event Source Motion, AI Functions, Video Loss, Network Interruption, Video Tampering, HDD Full, HDD Error, Audio Detection and Alarm Inputs
Event Action Send e-mail, trigger alarm output, push notification for XCMS App and C-WERK, upload to FTP/Cloud, trigger HDD recording and/or image capture, show message on screen, PTZ linkage, voice prompt, buzzer
Hyväksynnät
Regulation CE, EAC, FCC, RoHS Compliant
Standardit ONVIF (Profiili S), SDK/API
Yleistä
Operating Temperature -10 °C ~ +50 °C (+14°F~ + 122°F)
Humidity Less than 90%, non condensing
Supply Voltage 48 VDC, Power Adapter 100 ~ 240 VAC 50, 60Hz included
Power Consumption ≤ 8 W without harddisk
Dimensions 300 x 302 x 53 mm (11.81 x 11.81 x 2.08 Inch)
Weight 1650 g (3.3 lb)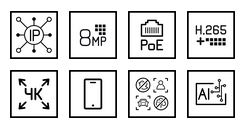 GU-RN-AC-8116PNVRTallennin16kanavaaPoENDAASMARTAudioOnVifhälytyswelltechgrundig
Arvostele tuote
Tälle tuotteelle ei ole vielä arvosteluja
Arvomme kaikkien arvostelijoiden kesken kerran kuukaudessa 100€ lahjakortin!
Kirjoita kysymys tuotteesta, kysymyksesi julkaistaan kun asiakaspalvelu on vastannut siihen. Saat vastauksen myös sähköpostiisi.
Tälle tuotteelle ei ole vielä kysymyksiä
Mikäli tuotteessa on jotain kysyttävää, kirjoita kysymys ja asiakaspalvelumme vastaa sinulle mahdollisimman nopeasti.